Posted on
By Michael Leslie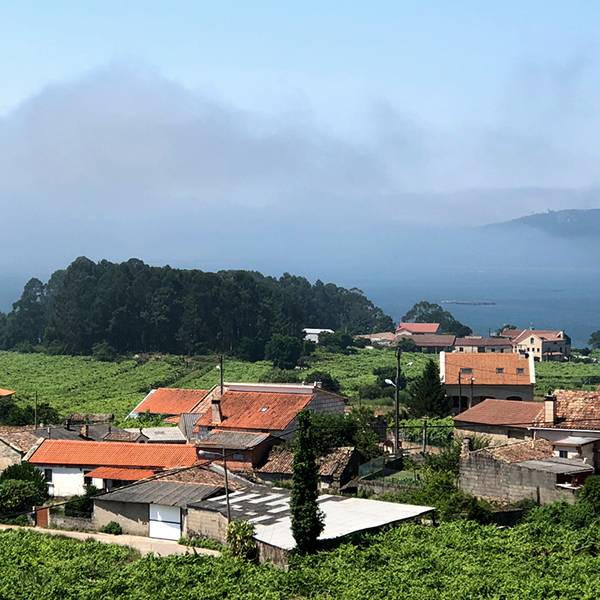 Tucked away in Spain's rainy, green northwest corner you'll find Xurxo Alba, a second-generation vintner at Bodegas Albamar. Here, just a stone's throw from where the Umía river spills into the Atlantic, the climate bears little resemblance to the rest of Spain. The region, Raís Baixas, located within the autonomous community of Galicia, is considerably cooler and wetter than the rest of the country. Given that the cool and damp weather makes the region's grapes prone to fungal infection, the Albariño grape variety, with its disease-resistant thick skin, accounts for almost 90% of plantings. Albariño is known for producing aromatic wines with nervy acidity that show complex aromas of lemon, lime, grapefruit, honeysuckle, beeswax, fresh herbs, coupled with salinity on the palate. Xurxo Alba, is one of the local producers that personify Albariño, so it goes without saying his entry-level Albamar Albariño represents the high quality and value we've come expect from the region.
While Albariño is Rías Baixas' most common varietal, it is not the only one. Less well known are Mencía, Espadeiro, Caíño and red blends from this cooler Galician climate, which are some of the most exciting wines coming from Spain at the moment. These varietals express the unique terroir found in the region and display vivid red and black fruit, spice, floral aromas, and crushed earth, along with a backbone of the region's famous acidity. Depending on the style, these wines complement the wide range of aromas derived from oak aging. Placing most of his emphasis on native red grape varieties, Xurxo spends much of his time experimenting in his small garagiste winery. His first vintage of Albamar O Esteiro Tinto -- a mere 3 barrels' worth -- was a blend of Mencía, Caíño, and Espadeiro that sold out immediately upon bottling. He's now producing Espadeiro and Caíño as single varietals to showcase the potential of these native grapes.
 
We are proud and happy to offer a full range of Xurxo's Albamar wines as well as several other beautiful wines from Galicia at 10% off through the weekend.